I came up to Deptford Lounge earlier this week to see Bernadette Russell's installation titled The Lost Property Office. It was originally developed as part of Deptford X visual arts festival in 2009, and has been shown many times since, but was now being shown as part of our Hothouse programme. It is a room full of lost objects and sounds, each item with a luggage label attached bearing its story. There was everything from a lost sock, to a lost love, lost inhibitions to someone's lost brother. As a visitor you can write your own story of something you have lost and it will be added to the installation. It was funny but also deeply touching. Life in all its shapes and colours. It made me think about how objects reveal stories about significant times in people's lives, but also when you lose something it can create a space for it to be filled with something else.
Later that day Bernadette took me on a walk around Deptford; something I have been wanting to do for ages. I have been so caught up with the logistics of the project I haven't had the time to properly explore the area.
She took me to the spot where Christopher Marlowe met his untimely death; a butchers called Wellbeloved Butchers who have been serving meats, sausages and pies since 1829; the London Bridge – Greenwich Railway Viaduct, which is a series of beautiful brick railway viaducts and is one of the oldest viaducts in the world; a proper east end pie 'n' mash shop called Manze's; and Deptford creek, which has huge re-development going on alongside it. All providing brilliant food for thought for our research for the performances of Give Me Back My Broken Night later in the year.
Coincidentally later that day, whilst perusing twitter, I stumbled upon a photographer and recent MA graduate called Janette Scott. She has a project tracing the history of Deptford creek in photographs which "captures the objects people have left behind and the people who remain, despite the increasing construction of billboards and scaffolding which signals the onset of gentrification". Janette discovered the Creekside Centre which offers low tide walks and became interested in the detritus left in the water. She called it the "archaeology of the creek". Some of the items included a rusty computer in its case, a vinyl record and lone shoe. I wonder if people had lost these items, like in The Lost Property Office, or whether they had discarded them, hoping they would never be found. Either way there is a story behind each one.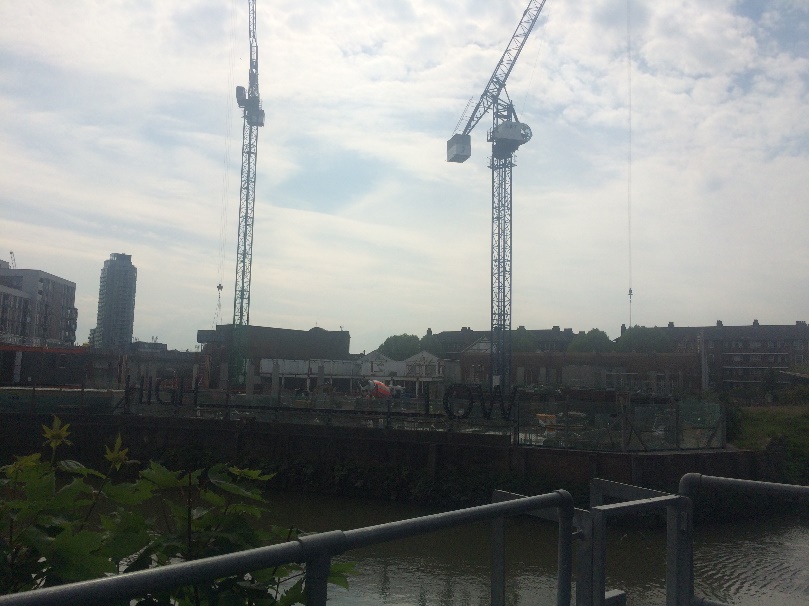 At the end of the day I noticed a poster in the square outside The Lounge. Rather than it being a familiar 'Lost Cat' poster as you would expect to see taped to a lamp-post, it was quite refreshingly the opposite. Apparently this cat is well known to the locals as it is always hanging out in the square. Definitely not one for the installation inside then…
I'm really looking forward to exploring Deptford more and learning about its history as well as its planned and imagined future.
Finally, I would like to draw your attention to a couple of events coming up as part of the Hothouse programme. This Saturday Sam Steer will be running a craft workshop at The Lounge suitable for all ages. He will be making a future Deptford out of paper.
And on the 21st May Bernadette Russell will be hosting a storytelling tea party at New Cross Learning to celebrate her Writer in Deptford post this year. Again it's for all ages.
Think that's all for now,
Jess (Uninvited Guests)