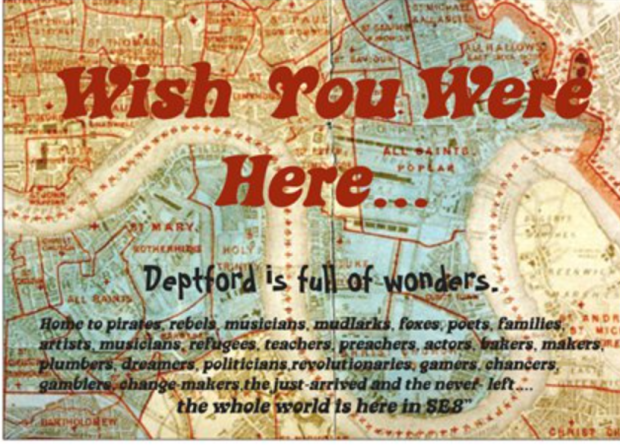 In the spirit of story telling, and urban myths, and fact mixed with fiction, below is a short story I wrote about the now sadly departed Paradise Bar. It is in part about Elvis, and I'd like to give a nod here to Paul Elvis Chan, no doubt still alive and kicking somewhere else, but I believe his Elvis Graceland Palace on the Old Kent Road closed around 2006. He sang to me on my birthday years ago and it was fantastic.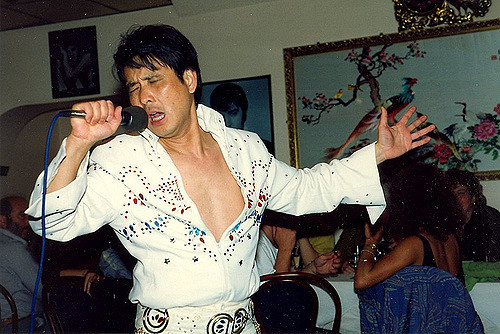 Anyway, a story. To my old drinking buddies, and Elvi (is that the plural?) everywhere. See you all at the weekend I hope….
Paradise Lost
The Paradise Bar was on New Cross Road in South East London. I think next door there was a place called the Hot Chicken Shack; the other side was the Golden Dragon Chinese takeaway, but I can't be sure. I paid more attention to the Paradise Bar itself and had some great times there. It was close enough so I could walk home, and the drinks were cheap.
Anyway, on the twentieth anniversary of his tragi-comic death, the Paradise Bar had an Elvis night. I had been brought up on Elvis, my mum had a mirror with his faced etched over in her hallway, she had drinks coasters with his face on and an Elvis CD collection she'd ordered from Reader's Digest years ago. I had a snow globe with Elvis in it playing a ukulele. I'd never even been to Hawaii, but I had seen Elvis in the film Blue Hawaii twelve times.
I went to Elvis night with my friend Karen. I went as "leather-clad-come-back" Elvis, Karen came as "gold-suit-but-still-sexy" Elvis. She had made a foot long ham, chocolate and banana baguette. I had made her sideboards out of fake fur with double-sided sticky tape, we had quiffs, and we curled our lips. We started drinking two- for-one-cocktails called Rockahulas. We had three rounds of these, then Karen said "I feel sick" and she went to the toilet. I thought wouldn't it be ironic if she died on the toilet in her Elvis costume, but I wasn't really worried about her, I knew she'd be ok.
I stayed at the bar because I loved watching the different Elvis "dancing with his pelvis" impressions, and I liked thinking about how I was going to get discovered any moment now for being a genius. This is how I passed my time back then, daydreaming I'd get famous just by hanging around, somehow. I hadn't worked out thedetails.This thought comforted me and prevented me from doing anything constructive, like working or having ideas. But it was ok because I was happy.
Whilst I was watching and thinking about being famous, the DJ was playing Jailhouse Rock. Next to me was this old fella, singing along but getting the words wrong. He sang to me: "You're sure the cutest jail-bird I ever did see, come on and do the jail house rock with me" and I said: Let's rock!" and we both laughed. He had a yellow dress shirt on and beige slacks. It wasn't really an Elvisy look. He said "How you doing?" I said, "I love Elvis" which was a bit obvious but I didn't know what else to say. "What's your name?" he asked, in a southern drawl. "Elvis" I said "That's a man's name" he said "Elvisina" I said, then I asked him: "What's yours?"
"Can you keep a secret?" he asked. He looked over his shoulder conspiratorially; looked back at me, winked.
"Yes. I love secrets," I said
"I am Elvis."
"Right"
I started backing away from him a little.
"No I am, I really am. I faked it: the toilet, the choking, the cocktail of drugs, and the premature death. I was sick of Vegas, sick of the same old songs, I couldn't see a way out. Then Marilyn got in touch with me and told me what she did, how she dyed her hair red and opened a bakery in Amsterdam. I still see her sometimes. We get together at lookalike events, tribute nights, that kind of thing. It's great to be anonymous. I got a dog; I got a flat on the Old Kent Road. I teach ukulele to kids in Spitalfields. "
"You are brilliant." I grinned, pleased to meet a good old-fashioned British eccentric.
"Anyhow, gotta go. I'm meeting Kurt Cobain at the Colony room. Everyone's so wasted in there they never notice us. Oh, by the way. You need to start living. Do something creative. You've got a great imagination." He slid the remainder of his 'Wooden Heart Whiskey' cocktail over to me. Out of the corner of my eye I saw Karen staggering out of the ladies. "Tell her Elvis has left the building". he said, and then he dashed off. I jumped up to run after him, I didn't want him to get away, I wanted to know what he meant, what should I do, how could I start? As I got up I tripped over something.
"What's that?" slurred Karen, appearing at my elbow.
"It's a blue suede shoe." I gasped.
"I won't step on it" she smiled.
That night I persuaded her to leave early, as I decided it was about time I got out of bed before noon.
I still have the shoe, and I've looked out for Elvis every day since then, but I've never seen him. I learned to play the ukulele in Spitalfields but to my great disappointment, it wasn't Elvis that taught the lessons, but a nice man called Matthew with a massive beard. I asked him if he was Bob Dylan but he said he wasn't and gave me a wierd look.
Last year Karen and I made it to Hawaii, and whilst we were away, the Paradise Bar closed down. I miss it. I say to people "do you remember the Paradise Bar?" and then I say "I wish I went more, when it was there".