Santa's Sci Fi Salon
By darkheartblackink on
On Friday 2nd December I hosted my last live event for the year-long project Hothouse, which has been looking at ideas of the future of Deptford in various creative and madcap ways. I was quite  extremely  I-might-actually-have-a- heart-attack busy in the lead up, but I was keen to pull together all the wonderful and seemingly disparate worlds I am lucky enough to work in, to celebrate the possibility of a utopian future. Which in the light of events of 2016 seems stubbornly optimistic. But, you know, it's my party, so I'll be stubbornly optimistic if I want to, as the song doesn't go.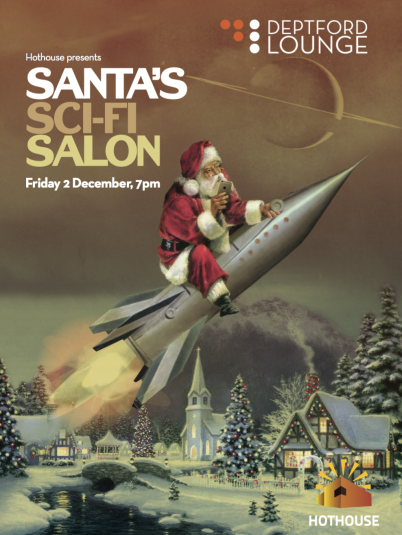 The event exceeded my wildest expectations, and even topped the time when London Dreamtime's Vanessa Woolf Hoyle, George Hoyle and I set fire to the library roof whilst storytelling during our show London's Burning. The line up included pals of mine: Dr Galliano (physicist, talking about fusion energy) , Bentley Crudgington (biologist, talking about human longevity and the possibility of immortality), Mariposa Bop (magical and hilarious hula hooping burlesquer), Midi Music Creative Choir) (singing Starman and other treats), the aforementioned George Hoyle of Cunning Folk (folk musician extraordinaire,  who for this night only specialised in sci-fi songs played on his banjo), and seniors from Meet Me At The Albany (with poems they wrote and recorded inspired by the Voyager Golden Record, with poet Simon Mole, edited by Tricia Jenkins)  It was great to include some new friends too: Nancy Hynes (poet, robot enthusiast) and for the after show podcast writer Hector Dyer (with fab sci-fi story) plus 5-year-old pop star Clementine (with a self penned song called Dark Dark Space).I've included the programme notes and details at the end of you'd like to know more, and to hear the FREE podcast with Hector's story and Clem's song go here
The audience was warm and friendly and fun, and we had a little competition writing wishes for 2016 on stars (which were later hung from the Albany's Christmas tree).
On paper it is perhaps unlikely that a variety night that includes such an eclectic bunch of people couldn't work, but it did, and magnificently, united as we were by a wish to enjoy ourselves, feel hopeful about the future, have fun and eat pickled onion space raiders.
It's been a lot of fun thinking about the future and uncovering on the way much trepidation and doubt about both the future happiness and diversity of Deptford, but also the actual survival of humans on earth. This has been a shocking year. But we have to look to the future, work out what we want from it, work out how to get there and set off. A week after this show I went to see Owen Jones talk about optimism at the School of Life. In an unlikely turn of events I ended up sitting next to him and singing "It's A Hard Knock Life" with him. (not just us, I hasten to add, other people in the audience joined in, otherwise it would go down in history as the strangest musical duo ever). His talk was in part a potted history of British struggle against injustice, taking in the English Civil Wars, the Jarrow March, the suffragettes and many more events and people, and he was saying about how it seems bad now but it has been far,far worse before, and we just have to get on with it. it was a great talk. But the best thing I took away with it was what he said about stories: about how to change people's hearts and minds, statistics and "facts" don't work, but stories do, and we have to share stories to let each other know the truth of each other lives and the world out there, to increase compassion, empathy, kindness, hope. Music to my ears. Which is more than can be said for our singing.
See you next year, and take heart. I've never known so many people engaged with ideas, with discussion, with politics, with activism, with each other. There is (still) more hope than fear
Merry Christmas
Happy Holidays
and a raucous pagan bacchanalia to All
Live Long and Prosper
P.S. Santa's Sci Fi Salon programme notes as promised
Welcome to the future. Tonight we treat you to a smorgasbord of superstars, plus a UTOPIAN competition with prizes, all wrapping up around 9.30pm. Please help yourself to spacedust.
We present:
Bernadette Russell (host and curator)
Bernadette is co-director of arts organisation White Rabbit, who create theatre, live lit/spoken word events, cabaret, podcasts, and salons (of which this is the latest.) They have created work for National Theatre, Southbank Centre, LIFT festival, Duckies and Birmingham Rep amongst many others.
www.thewhiterabbit.org.uk twitter @betterussell @yeswhiterabbit
Bentley Crudgington (speaker)
Bentley is a biomedical scientist and number one monster fan. He has an unhealthy interest in infectious diseases, animal/human interactions and the ecology of lab-derived life forms. Bentley will frantically gesticulate through the casual topics of life, death and things he is just not that sure about.
www. silentsignal.org twitter ‪@Incidentallyb‪
 The Meet Me At the Albany (poets)
Meet Me at the Albany is an all day arts club for the over 60s based at the Albany. This poem, Golden Voyager, was created in collaboration with poet Simon Mole and recorded and edited by Tricia Jenkins. It's inspired by The Voyager Golden Records, phonograph records that were included aboard both Voyager spacecraft launched in 1977. They contain sounds and images selected to portray the diversity of life and culture on Earth, and are intended for any intelligent extraterrestrial life form, or for future humans, who may find them.
www.meetmeatthealbany.org.uk twitter @MeetMeAlbany
Cunning Folk (musician)
George Hoyle AKA Cunning Folk sings songs about ritual landscape, old magic, and for one night only, science fiction movies.
www. cunningfolkmusic.co.uk twitter ‪@folk_cunning‪
 Dr. Dominic Galliano (speaker)
(School of Physics and Astronomy Queen Mary, University of London). Dr. Galliano is director of outreach for SEPnet and loves talking about all things physics. Throughout 2016, he worked with Bernadette and local primary school children, creating radio shows with stories written by them, imaging the future of Deptford. Tonight he will be talking about the future of fuel.
Twitter ‪@PhysicsDom‪
 Mariposa Bop (performer)
Beautifully bonkers, delightfully daft, hopefully hilarious…Mariposa Bop is a hoop wielding, face making, comedic force of nature. Producer of The Apothecary Cabaret in Dalston, London, multi-coloured pin-up and globe trotting burlesquer! Mariposa will be presenting "Dawn of Man" her unique homage to 2001: A Space Odyssey featuring a hoop monolith and a dancing ape!
www. missbop.co.uk twitter @mariposabop
Midi Music Creative Choir 
Midi Music Creative Choir are a community choir who blend joy, harmony and the feel good factor with a fusion of soul, pop and a little bit of jazz …
www.themidimusiccompany.co.uk twitter @TheMidiMusicCo
Meet Me At The Albany (poet)
Created with poet Simon Mole, the background track to this poem "The Perfect Astronaut" is  "Tsuru No Sugomori" by Goro Yamaguchi. (One of the pieces of music included on the Voyager Golden Record.) The poet wishes to remain anonymous.
Nancy Hynes (poet)
NJ Hynes has lived in south London for over 20 years, but was born in the American Midwest (and is proud that her home state did not vote for Trump!) Her first book, The Department of Emotional Projections, was published in 2014, after she won the Live Canon first collection competition. Many of her poems explore a future where space travel is normal and technology advances, but humans remain the same. Almost.
www.njhynes.net
Cunning Folk (musician)
George is back to finish the night off in his charming and inimitable style!
 Announcement of competition winner! Prizes! THE END. (approx. 9.30pm)
 EXTRA! Post show we have created for you a beautiful podcast, it's FREE to listen to and download, is called SANTAS SCI FI SALON and can be found here: http://whiterabbitpresents.podbean.com
 Featuring fab sci-fi story "This Is Not A Place of Honour" by writer Hector Dyer
Twitter @HectorTDyer
PLUS a fabulous song "Dark Space" written by our youngest artist, 5 year old Clementine.
 Clem's story:
Clem is 5 and is in the first term of Year 1 at school, where they are doing a project about Space. At home, she wrote a poem and asked Daddy to help her make it into a song – this was all her idea! Daddy (Ben) used Garageband to put together the track, and Clem sang her lines. She had a bit of a cold but did really well, enjoyed herself at the time and then that evening told her mum and dad she was finished with recording. She is now in the process of writing out Neil Armstrong's life story.